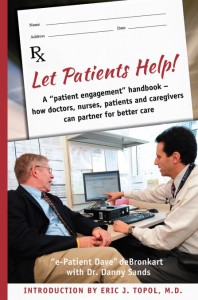 Dave deBronkart, better known as "e-Patient Dave"
, is a marketing expert who on January 3, 2007, at 09:02, received a call from his doctor: "We have found something in your lung." DeBronkart remembers that moment with precision because that news changed his life. From that moment he abandoned his normal citizen status to become a metastatic patient of a tumour of renal origin and, given his clinical condition, in an advanced cancer patient. DeBronkart received a treatment that normally does not work, but luckily it worked for him.
So far a story with a happy ending, but Dave's story highlights his attitude (just look at the cover of the book with a picture of him with his doctor, Dr. Danny Sands). With the sentence above, far from adopting a fearful and docile attitude, searched Google, went to find other patients with the same diagnosis, and sat down to talk to his doctors using his own criteria, sharing with them each of the decisions that he was taking. Now e-Patient Dave has become a leader in what we call patient empowerment.